Sea Turtle Nesting on
South Walton Beaches
| | | | |
| --- | --- | --- | --- |
| | Loggerhead | Green | False Crawl |
| | (Caretta caretta) | (Chelonia mydas) | |
| 1995 | 39 | 0 | 10 |
| 1996 | 42 | 3 | 12 |
| 1997 | 54 | 0 | 14 |
| 1998 | 39 | 2 | 11 |
| 1999 | 55 | 0 | 31 |
| 2000 | 58 | 2 | 22 |
| 2001 | 27 | 0 | 9 |
| 2002 | 33 | 1 | 21 |
| 2003 | 33 | 4 | 22 |
| 2004 | 21 | 0 | 11 |
| | | | |
| | | | |
Totals:
Loggerhead – 401
Green – 12
False Craws - 163
Sea Turtle Nesting Data
2005


Nests:

· 19 Loggerhead (Caretta caretta) Nests
· 10 Loggerhead Nests Washed Away In Hurricane Dennis
· 32 Loggerhead False Crawls

Hatchlings:

· 406 Hatchings emerged
· 7 Hatchlings alive in nest
· 24 Hatchlings dead in nest



First Nest - 6/04/05

Last Nest - 8/19/05

The summer of 2005 was a very hard season for us. It started with our beaches in bad shape from Hurricane Ivan Sept 2004. The first tropical depression of the year, Arlene damaged our beaches and left debris all over. We were already moving nests because of sand berm projects, where they trucked in sand to our beaches. Our beaches were so low that out of the first 11 nest laid, 9 had to be moved because they were laid below or in the wrack line. Hurricane Dennis on 7/9 left our beaches even more destroyed and debris all over. The remaining 9 nests found had to be moved either because they were in Sand Berm Nourishment Areas or the nests were sitting in water. When we dug up the nests to move them we found the eggs laying in water. Usually when we move a nest we have over 92% hatching success but this year it was only 47 %. Walton County Beaches are so low in depth that the bottom half of sea turtle nests are in water. This is a very big threat to the survival of our subpopulation of the threatened (endangered) Loggerhead. Many of the false crawls were because of deep tire ruts or debris on beach.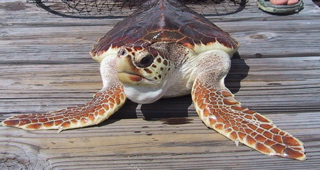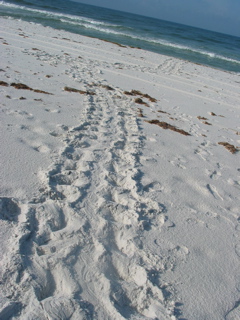 Florida Sea Turtle Grants Program
Van R. Butler Elementary School